This December I've come up with a bucket list of sexy holiday-themed things I'd like to do. Here's my list. 😘
1. Have sex in a sexy Christmas outfit.
2. Have sex in a Santa hat.
3. Role play as Santa and someone on his naughty list wanting to negotiate their list standing.
4. Have sex/"play" in the snow.
5. Find a sexy/kinky use for a candy cane.
6. Incorporate whipped cream in a sexy way.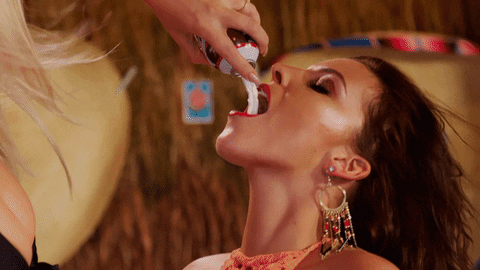 7. Fuck to my sexy Christmas music playlist.
8. Buy a holiday-themed toy/accessory.
9. Give N a sexy gift.
10. Have sex on Christmas Eve & Christmas.
11. Makeout by a firepit in the snow.
12. Make a naked snow angel.
13. Sit in the hot tub while it's snowing.
14. Spend an evening alone in a hotel with N.
15. Do a boudoir photoshoot.
16. Test out something new with N.
17. Be passionately kissed under the mistletoe.
18. Make eggnog into an adult beverage.
19. Go on an ice skating/hot chocolate date.
20. Spend a whole day eating/drinking aphrodisiac holiday foods.
21. Try out holiday-themed sex-positions.
22. Slip something sexy into N's stocking.
23. Wear a giant bow and nothing else.
24. Have a candle-lit dinner.
25. Play our sexy card game together.
---
That's it. There are 25 different things on my bucket list, and as you can see one is already crossed out. So make sure to check back frequently so you can see how much of it we have done.
What's on your sexy holiday bucket list? I'd love to know!
XX,
Ashley